Coming from Sweden, In Circles is a relative new band with a brilliant future. They've only played together since 2013 but they have made great strides since they started their musical journey in Östersund. In just a couple of years, the young Swedish prog-metal band has collected an impressive series of successes; and winning Imagine Sweden in 2014 was only the beginning. The next special triumph for these four headbanging virtuosos came in 2015, when they won the International Imagine title, "beating" 5 other countries thanks to their amazing performance, demonstrating their passion and appreciation for what they do. It is their ability to pass that passion to their fans what makes them so special and crowned them the best up and coming band in the (Imagine) world.
Since they took the international spotlight in June 2015 in Brussels, In Circles have been busy preparing for their international tour through all the Imagine National Finals, which is the prize for winning the Imagine International Final. The tour kicked off on March 2016 and there was not better place to do it than the sunny and vibrant Barcelona for the final of the first edition of Imagine Spain! The Spanish title went to the band Ivy Moon, along with the possibility to participate to the 2016 Imagine International Final in Zagreb and try to repeat In Circles' successful path to international recognition.
After one year of becoming the International kings of Imagine, we have spoken with Simon Jämtgård and Simon Alfredsson, bass player and guitarist of In Circles, about how it was like to be back on the Imagine stage, their perceptions on the first edition of Imagine Spain and a brief recap of their recent works since they won last edition of Imagine International Final.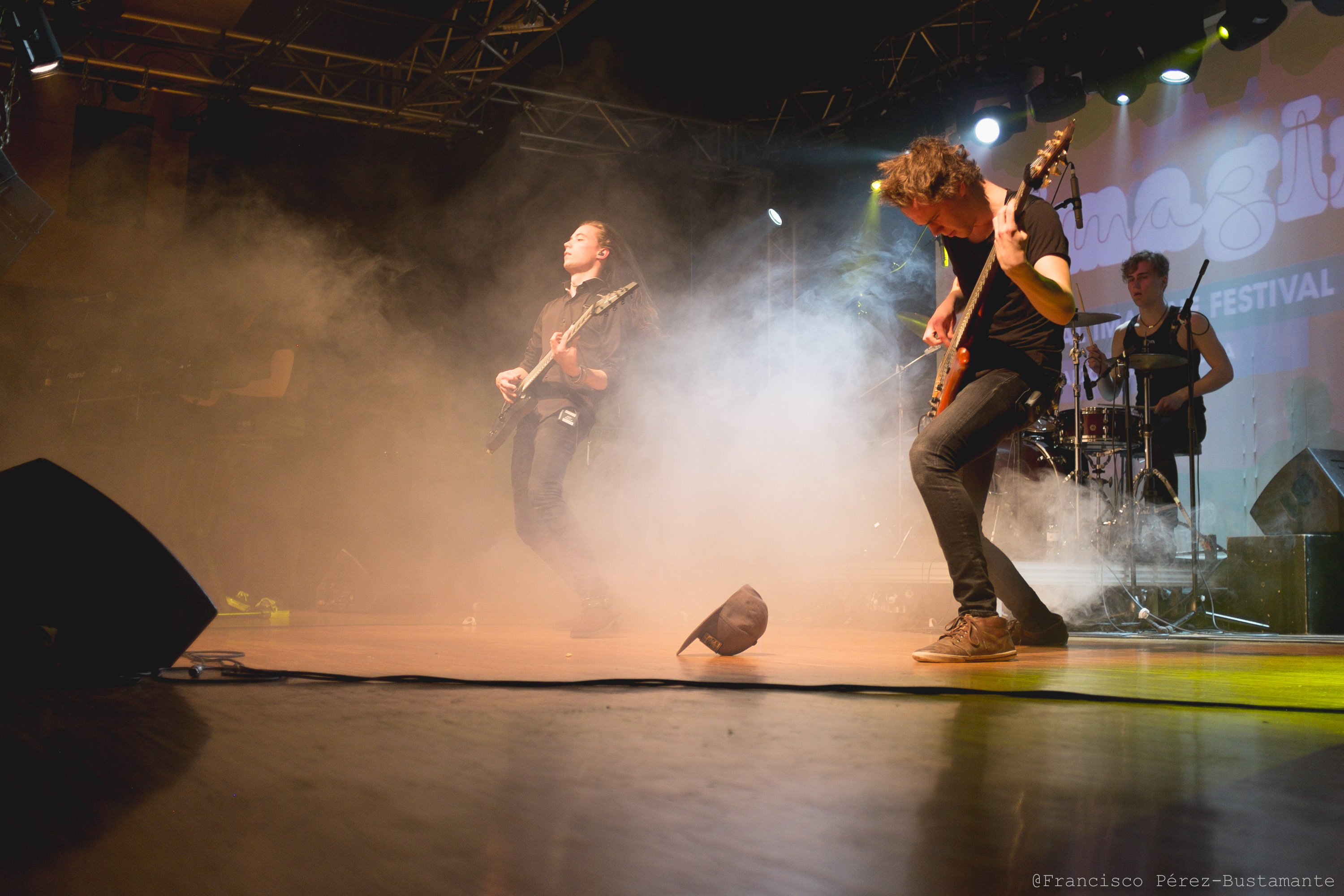 Hello guys! First of all congratulations for the band's achievements so tell us, what have you been up to since you won Imagine?
Hi, thank you very much! Well, we've been working on new songs for our upcoming album. We've been experimenting with all kinds of sounds, some of them fairly extreme. We've developed much as a band, both on and off stage, and we've improved our writing. Our new songs are more influenced by modern progressive metal than the ones we started out with, we think that we've found a good balance between early and modern metal that everyone in the band is comfortable with.
Recently we've been on our first tour stop of the tour we won this summer, right now we're booking shows and planing on releasing new music as soon as possible.
Do you feel that participating and winning Imagine International has represented a turning point in your career?
Absolutely, we have become more serious with the band and it feels great to get the chance to go to different countries and meet new people who share our interests. We as a band are also more confident in the music that we play, we've always liked our music that we've written, but we never thought that we would win first prize in such a big event with such a high standard in all participants. So the contest has been rewarding for us as a band!
What have been the biggest changes in your musical career after you won Imagine International?
The biggest change is that we'll be playing in other countries, and it is new for all members of the band. And as I said before, it's a big change that we have begun to be more and more serious with the band!
How do you think projects like Imagine can help the young and up-and-coming bands?
We think it is a really good start for bands and artists. One of the best parts of Imagine is that you get the chance to build a large social network of musicians and people who work in the music business. You can find new musicians to collaborate with and you will definitely find good new music to be inspired by! Imagine is a great start but like every other part of the music industry today, it´s about what the artists themselves make out of it.
Well, now you are back on the Imagine stage. How does it feel?
It feels good! it's always a pleasure to perform for other musicians. For us it has been truly educational to travel and perform at different locations outside of Sweden. We, In Circles, always enjoy playing on Imagine stages!!
Actually you kicked off your international tour in the stage of Imagine Spain. What are your impressions of this event? The atmosphere, the audience, the young bands, the winners Ivy Moon?
We think that Imagine Spain did a good job, especially for being their first year. The stage crew did a great job and so did everyone working with Imagine Spain. Both the audience and the participants truly impressed us with their energy and enthusiasm. The winning act, Ivy Moon, did a great show and we are looking forward to hear and see them again, good groove and appealing energy! We wish them the best of luck in the competition.
How do you feel seeing the new young bands approaching the national and international spotlight? What advice would you give to them?
We feel excited! It's so much fun to see all the great bands and artists perform, although it only has been a little more than a year since we won, we feel a bit nostalgic! Tip: try to make the best out of the Imagine Festival, try not to focus on the competition, make new friends and just try to have a good time! Also be sure to get the correct information on paper, it's a shame if misunderstandings get in the way of enjoying your musical experience! It's never wrong to ask if anything seems unclear!
What about your future? What's next for In Circles?
We have the rest of our Imagine tour and then some other shows in the future and currently we are writing on a full length album that we hope to release as soon as possible! In the meantime, go and give our Alaska EP a listen on Spotify!
Thank you In Circles! Good luck and see you at the next Imagine national finals!
In Circles - The arrival (IMAGINE FESTIVAL SPAIN)