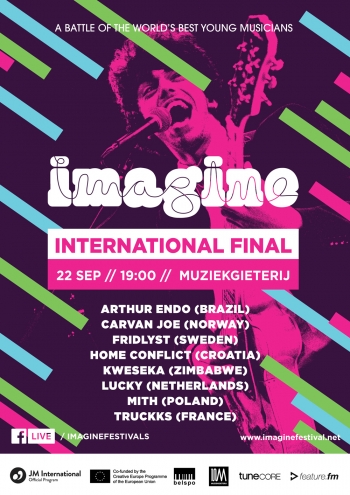 The Imagine International Final is the pinnacle of the Imagine competition bringing together the national winners from all competing countries. This year sees competitors from Brazil, Croatia, France, Norway, Poland, Sweden and Zimbabwe.
The final will be held at the Muziekgieterij in Maastricht, in the Netherlands on the 22 of September 2018. Imagine is known for being an all-styles music competition for young artists and this year promises not to disappoint! Each group will have 10 minutes to convince that jury that they are the next Imagine International Champion.
The line up is:
Arthur Endo, a latin jazz guitarist from Brazil
Caravan Joe, a blues musician from Norway
Home Conflict a punk-rock outfit from Croatia
tRuckks, a skatecore group from France
Kweseka, an afro-fusion band from Zimbabwe
Fridlyst, a hip-hop trio from Sweden
Mith, a Polish rock band
Lucky, a rapper/producer from the Netherlands
Join us live in Maastricht or tune in for the Livestream on via Facebook live on the Imagine page.
----------------------
Imagine is brought to you by JM International in partnership with the Muziekgieterij, TuneCore, BELSPO and the EU: Culture programme.